Kristen
Genetic Engineering Notes
Today in class we started our notes on Unit 5: "Designer Genes"
Notes:
DNA Technology- methods to study and manipulate genetic material.
ex:
corn can produce its own insecticid
Bacteria can clean up pollution
DNA fingerprints- to solve crimes
Advances toward curing fatal genetic diseases
4 Ways DNA technology Can Be Used:
Use of recombinant (recombine) to produce useful products
Use of DNA fingerprinting in forensic science
Comparison of genomes
Use of human gene therapy for treatment of diseases
3 Ways to Transfer DNA
1. Transformation- the taking up of DNA from the fluid surrounding a cell.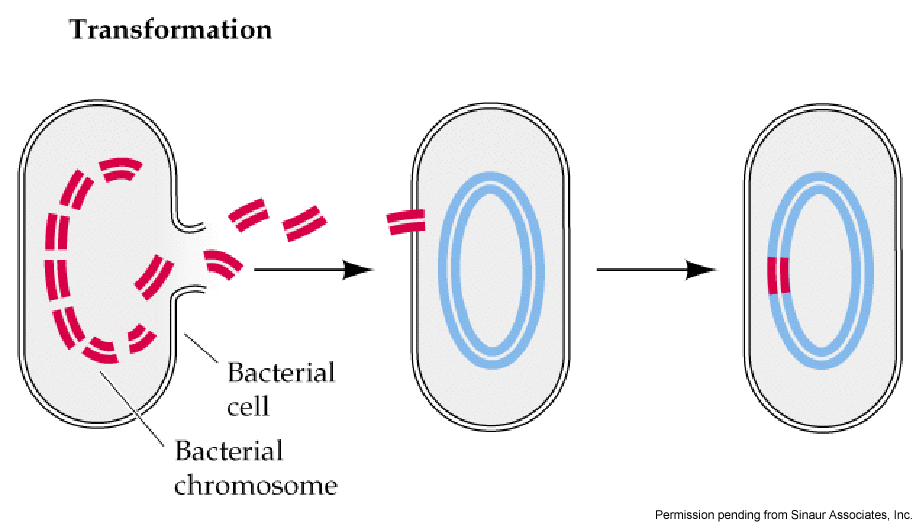 2. Transduction- the transfer of bacterial genes by a phage. The phage has a fragment of
DNA from its previous host cell. Now it is injected into the new host.
3. Conjugation- a "male" bacterial cell attaches to a "female"v cell by sex
pili
, a bridge forms, and DNA passes from the male to the female.
Here are some terms we went over today:
Biotechnology- the use of organisms to perform practical tasks.
ex: use of bacteria to produce cancer drugs and pesticides
Genetically Modified organism- an organism that carries recombinant DNA
Transgenic organism- a host that carries DNA from a different species
Cutting and Pasting DNA:
Restriction Enzymes- the cutting tools. These enzymes recognize short nucleotide sequences in DNA and cut at specific points.
Restriction site- the place where DNA is cut
staggered cuts yield 2 double stranded DNA fragments with single stranded "sticky ends"
Sticky ends are key to joining with other DNA
Join another DNA with 1st DNA
DNA

ligase

connects the DNA pieces
Result: a DNA recombinant molecule from 2 different sources
Obtaining the gene of interest: 2 ways
1. Using a radioactive DNA probe
2. Use reverse transcription to make an artificial DNA gene from
mRNA
DNA Fingerprinting- a procedure that analyzes a person's unique collection of DNA restriction fragments. Used in forensics- determines whether 2 samples of DNA are from the same individual. Samples come from blood, semen,hair, skin or other biological evidence.
Homework: UP pg. 13-15, 7-10, 5-6
Next scribe: Davin